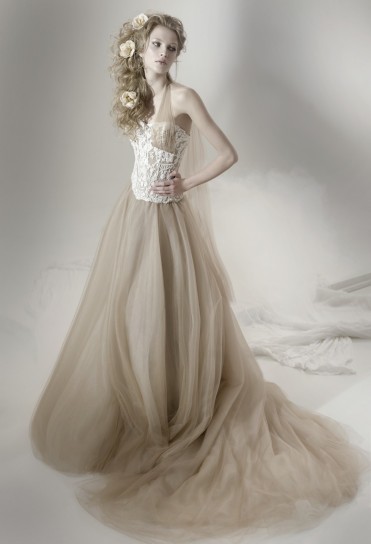 Have you noticed how many blogs and sites on the web present the latest wedding dress trends?
Well, don't follow what fashion dictates you to do any more, but decide for yourself!
Your wedding dress should be what you want, feel and perceive as the essence of you as a woman, depicting your personality, as a symbol of your most marvelous day.
Your dress is your co-star!
Why? I bet there is no bride that would be happy with just any dress…a bride's wish is to feel as if she is the most beautiful and most feminine woman, like a princess, so she wants a dress that fits her expectations.
We have that perfect 2015 wedding dress in mind.
You want a dress that no one else has, one that expresses who you are and suits you perfectly, and we know that.
Looking for a wedding dress often poses certain obstacles, but I have solutions.
First, let's look at some cons making this task challenging:
Problem no.1
You start looking through catalogue pages and going round to shops without having a clear idea about what you want.
Problem no. 2
Finding a dress model that is right for you on the pages of a catalogue seems impossible because there are so many lines and a lot of them look the same.
Problem no. 3
The dress shops that have "your favorites" can also be far away from home.
Problem no.4
Seeing how a dress looks worn by a model isn't always how it looks worn by you.
Problem no. 5
The fabric. You can't feel the fabric on the pages of a catalogue.
Problem no.6
It's expensive.
This is why I give you 6 reasons to pick a dress made for you to wear on your wedding in Venice in 2015.
You can get ideas from designer lines, but here are the pros of having one made for you:
Reason no.1
It will be your design, it will be totally original.
Reason no.2
It will be exclusive: a dress for you that no one else has ever worn or will ever wear.
Reason no. 3
It will be convenient. You can choose a tailor nearby.
Reason no. 4
Being assisted by an expert, you can try on different models and pick the one of your dreams.
Reason no. 5
You can actually feel the fabric that will be sewn to create your dress.
Reason no. 6
It will be less expensive! Purchasing the fabric and having the dress made costs less than buying one off the rack.
If you think that these six reasons are valid enough to pick a dress from the lines made for you, you are reading the right article.
Marryville can help you.
| | |
| --- | --- |
| Hai trovato utile questo articolo? | |
https://www.marryville.it/wp-content/uploads/2015/02/abito-da-sposa-in-pizzo-marina-mansanta.jpg
544
371
Ilaria Bonadei
https://www.marryville.it/wp-content/uploads/2014/10/logo-marryville-header-retina1-300x100.png
Ilaria Bonadei
2015-02-11 15:40:17
2015-05-02 13:37:33
6 reasons to pick a wedding dress made by you. Marryville- Wed in colour.