The easiest way – getting married in Venice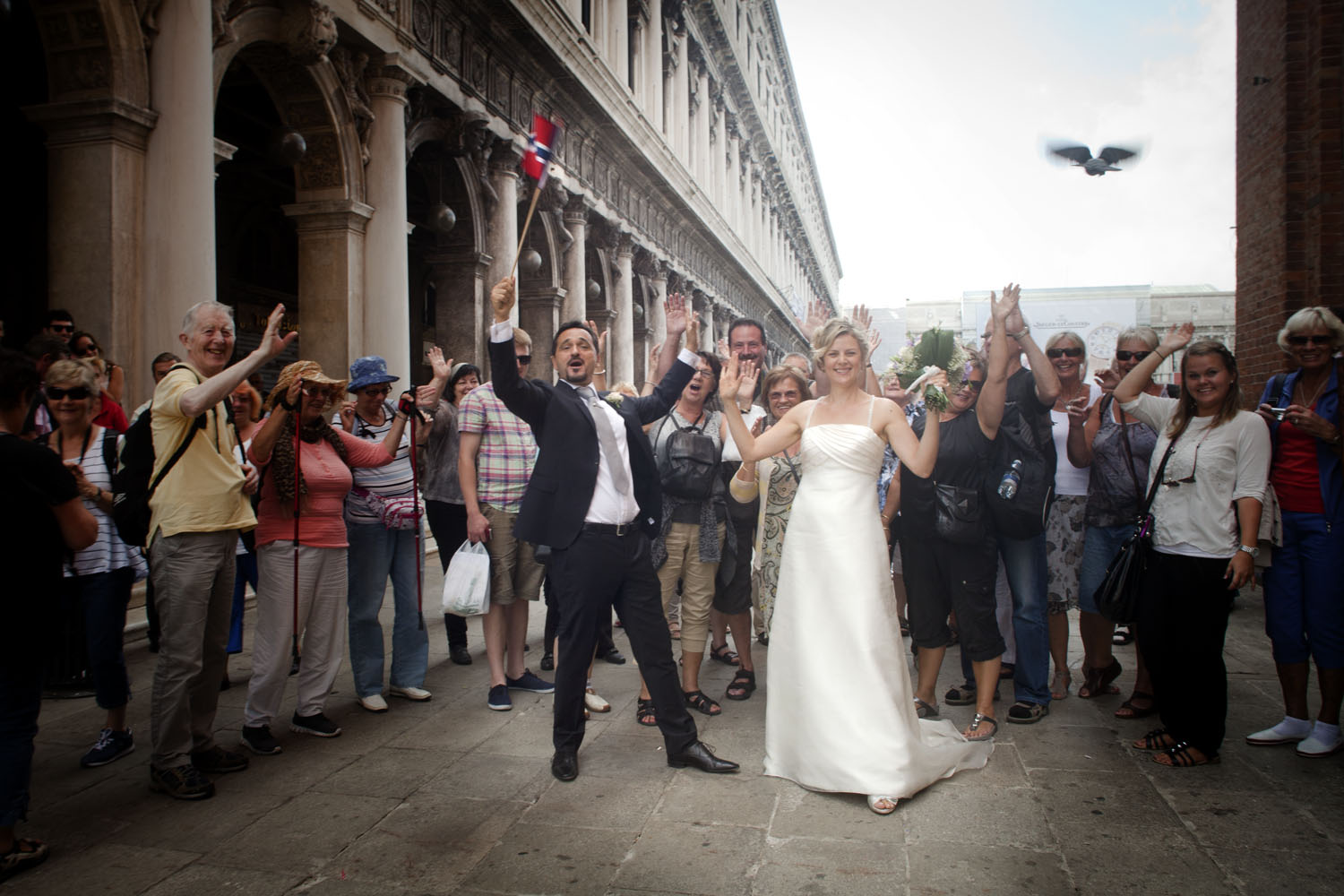 There's no point telling you how getting  married in Venice is not the same as getting married in any other city in the world.
Whether you're from Rome, Florence, Naples or any other city, the beauty and splendor of Venice make it simply magical.
The lagoon and gondolas, the history tucked in every corner, and every detail of the city are all elements that just on their own give a touch of wonder to any ceremony.
So, if you are evaluating the idea of getting married in Venice, I can't help saying "Do it and don't think…you'll see, you won't regret it".
I must let you know, however, that Venice may pose some added challenges for those who don't live there and don't know the city very well, especially if one would like to organize an important ceremony, exactly because Venice is a unique city in the world.
So, here are my best personal tips in 3 very simple steps to easily organize a problem-free wedding in Venice.
Step no. 1
Search on Google for everything you think could serve in making your dream wedding in Venice come true.
As a whole, the fundamentals of getting married in Venice, just like in any other city, are really simple.
Basically, you have to find a location for the ceremony (religious or civil) and a place for the reception.
Even with these two very simple things, the search in Venice may instantly be a brain teaser.
Venice is beautiful, but it's also complex. To avoid making a mistake, one must really know Venice well.
You could for example, find a very lovely restaurant for your reception but later find out it's not easy to get there from the city hall or church you have chosen for the wedding ceremony.
Even more, since Venice is a city that thrives on tourism, it offers tons of restaurant and hotel choices for receptions. But, quantity certainly does not mean quality.
Personally, if I had to recommend a restaurant for a reception, of among over 300 places in Venice, I would make a list that I could count on one hand.
Tip no. 1
To sum up step no.1, I suggest looking on the web for a wedding planner in Venice.
Step no.2
Start contacting restaurants, hotels, and the city hall o church you have chosen.
If you have in mind to do everything on your own, you have no alternative but to find the perfect place for the ceremony.
If you have a religious ceremony in a city like Venice, you will have an infinite choice, there are over 100 churches.
But, not all churches are open and willing to confirm wedding requests made by non-residents.
Don't ask me why, though.
However, you can actually find a beautiful church when searching, and a friend or acquaintance may even point out a couple of truly lovely ones.
Hence, in contacting such references, you might be unpleasantly surprised to find out that they actually aren't so ready to accept everyone, and planning a wedding may mean getting on a list and getting over other various hurdles.
The same is true for restaurants that cater to weddings.
You may have to come to Venice more than once to personally visit a series of restaurants and hotels for the reception.
But, besides what seems obvious, what could guarantee you that the service will be good in the end?
As in any situation, the only way one can have this certainty is by getting to knowing about the city, the people and the location beforehand.
Tip no.2:
If you have followed the first tip, you can now begin to seriously consider the idea of entrusting your wedding planning to a professional with expertise in Venice.
Step no. 3:
You have started getting in touch with churches, restaurants and hotels, but you realize that these are not the only things necessary to to make your wedding truly special and unique.
You will need a photographer, musicians, flowers, a make-up artist and hairdresser, just to name a few…
In simple words, if you have never had to do any planning, perhaps you are already starting to realize it's better not to improvise such things.
Planning may seem simple and nice. And it really is.
But simple doesn't mean easy.
Indeed, in order to get married you need that special recipe, and "voilà" the wedding is ready!
Although you hopefully may understand the process that helps you find the ingredients for this recipe, doing it still isn't so easy and straightforward as you may think.
This is especially true if we consider having a wedding in Venice.
You can't imagine how many people have made a most sincerely enthusiastic decision to fulfill their dream of love by getting married in Venice.
Some have made such a really enormous effort, reaching out to everyone they know in the area and spending a great amount of time doing it all by themselves.
All this effort, however, wasn't enough in many cases to avoid those typical hidden obstacles in Venice.
For example, a few years ago on the wedding day of some friends of mine, the exhausted bride and groom were so nervous and totally stressed they didn't even enjoy their wedding.
Then there are other people who have discovered so many little things that are off-key and not in harmony on the wedding day that they wouldn't have chosen the church, restaurant or hotel if they could have imagined how everything would be before.
Tip no. 3:
When deciding on how to plan your wedding in Venice make sure that money is not the only determining factor for your choices.
You could actually find out too late that the most beautiful day of your life deserves more attention and expert care.
Getting married in Venice is the most fantastic choice you can make. Don't spoil it all by making careless or random decisions.
Even for a simple question or any advise at all, I am always available to help you.
It would truly be my pleasure to listen and support you in the very best way.
Photographs by Grazia Fiore www.graziafiore.com
https://www.marryville.it/wp-content/uploads/2015/02/MG_0806.jpg
1000
1500
Ilaria Bonadei
https://www.marryville.it/wp-content/uploads/2014/10/logo-marryville-header-retina1-300x100.png
Ilaria Bonadei
2015-02-12 12:45:03
2015-05-21 12:23:01
The easiest way – getting married in Venice